Press release – The Wadebridge Ride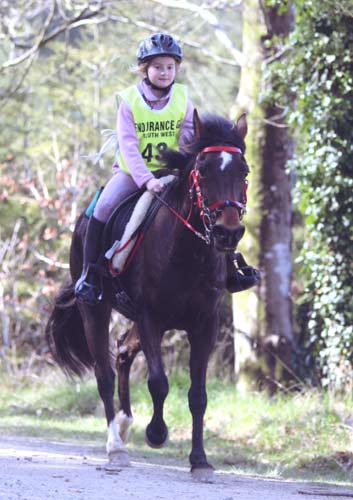 The Wadebridge Ride is always the first competitive endurance ride of the season in the south west. It can truly be called an "endurance" ride since it has been held almost every spring since the 1970's.
The Ride Organiser this year was Stevie Martin, who, together with her team of volunteer helpers, ran the event with her usual brisk efficiency. This year the ride was very kindly sponsored by Sweet Meadow Horse Feeds.
The venue at the Royal Showground is nearly always windy and this year was no exception but the riders and their horses enjoyed wonderful sunshine all day, as they trotted and cantered around the route.
This ride, which includes quiet lanes on the way out, then forestry tracks, and more lanes on the way back is an ideal and straightforward start to the season. Experienced members of Endurance South West use it to bring on their young horses and novice riders make it their first competitive ride.
One rider having her first experience of endurance riding was 8-year-old Saffron Bishop, riding with her father Tristan.
Saffron may be just starting endurance riding but her pony, Scarlet, known as "Charlie" at home, has been there and done it all. Now aged 18 years, the little Exmoor x Arab pony taught Saffron's elder sister Rachael to ride and to compete successfully in endurance riding.
In 2002, they were among only four competitors to finish the 100 mile Golden Horseshoe Ride on Exmoor. That year they were also Junior National Champions before going on to become Under 21's National Champions in 2005.
For the last two years, Scarlet has been on loan to the Chisholm family, from Lydford, and has taken sisters Tess and Abby up to advanced level endurance riding. Now she is back at home in Alternun and starting all over again with Saffron.
Over ninety competitors and pleasure riders took part at Wadebridge, completing with a high number of Grade Ones.
Equus Health were kind enough to give prizes for the Best Turned Out Horse and Rider, which were won by Carolyn Thomas on Midnight Mischief, Ann Jobson on Samson, and Katie Came-Johnson on Pompei.
The Sweet Meadow Horse Feeds awards for the Best in Class, judged by the team of Vets, were Lesley Dore on Firebird, Valerie Crocker on Prince Ladem, and Vicky Mosey on Betty. The Farrier's Award was won by Arthur Bell of Truro, who shod Alex Prout's mare Tilly.
The next competitive ride organised by Endurance South West, is St Meubred's at Cardinham, on Sunday 19th April.
Non members are welcome to take part in any of the South West Group's Training or Competitive Rides. For dates, contact numbers, and to download entry forms visit www.endurancegbsouthwest.com