Press release – Scottish Endurance Riding Club AGM Sunday 22 February 2009
The SERC AGM was a lively affair this year, with a number of rule change proposals. The most significant of these related to younger potential endurance stars.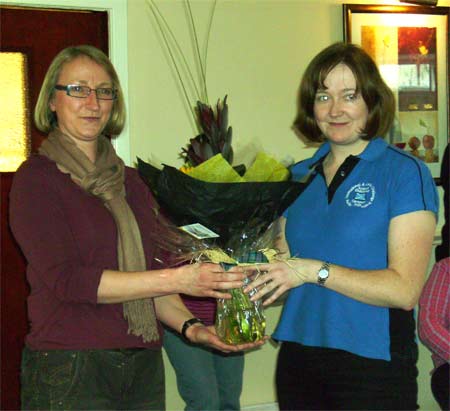 Chair of Selectors Audrey Clarke and Team Chef Evelyn Frame

Motions that were carried included a reduction in the junior age to 8, bringing SERC in line with EnduranceGB. In addition, it was agreed to create a new category of membership, Young Rider, 17and21 years old. Currently the Club offers no training aimed at younger members. In creating this category, SERC aims to encourage our future endurance riders, by identify our young riders in order to provide training and mentoring to enable them to progress.
Club Chair Janice Thomson stood down after two years. She reflected on a 2008 that had included some notable successes. These included the Scottish Team sweeping the board in the Home International and Celtic Challenge team competitions, with Scotland victorious in both and winning Best Turned Out Team. Chef Evelyn Frame's work was praised as well as the contribution of team stalwart Diane Michie, who has represented Scotland over every distance, a unique SERC achievement.
The Caledonia Challenge FEI*** had attracted an international field and SERC rider Sarah Norris had won the national 160k class.
SERC rider Cheryl Wallace had won the EnduranceGB veteran award for her horse Wrightfield Omar and had 5 major placing in endurance rides south of the border in 2008.
The Perth Racecourse venue and routes had been trialled in 2008 and would provide the Scottish Championships venue in 26and28 June 2009. The venue provided excellent facilities and the route was testing and varied. Plans were in hand to extend the route for 2009, to create a true championship challenge. Thee Championships in 2009 would include FEI** and * classes as well as the national championships.
Fiona Henderson takes up the reins as Chair for 2009, with Sheila Bruce elected Vice Chair.
The AGM was followed by prizegiving. For 2008 only, this included the Scottish Championship Trophies, with the Championships run as a series in 2008.
SERC TROPHIES 2008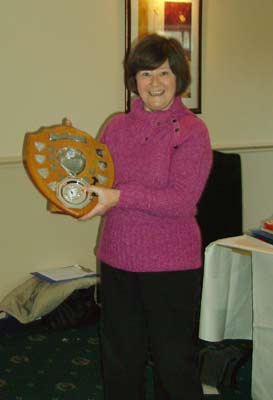 Anne Short, Mousquetaires, Ashanti & Alba Challenge Trophies & Platinum Thistle

Mousquetaires Trophy - Highest Annual Mileage Overall
Anne Short
Cassidy Trophy - Rider with Highest Ride Points
Anne Short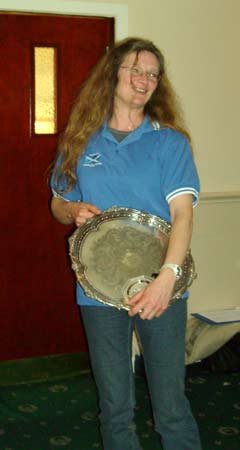 Sarah Norris, Distance Rider & Ashanti Trophies & Diamond Thistle


Distance Rider Trophy - Combination with highest points from 4 rides
Sarah Norris and Southolme Blossom
Ashanti Trophy - Horse with highest points
Southolme Blossom
MacLean Fencing Novice Trophy - Novice Horse with highest points
Khebir Shahir [Jill Calder]
Junior Trophy
Tilly Hepburn Wright and Kerbeck Night Jewel
Glasgow Cup - Horse with most points from 32km competitive rides
Newtons Charmer [Lesley Bell]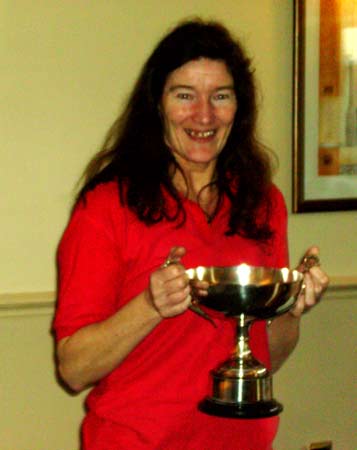 Rhonda Brown, Border trails, Regal Adios & Open Challenge Trophies


Border Trials Intermediate Trophy - Best 50km combination
Rhonda Brown and Ronnie
Regal Adios Trophy - Best Registered Standardbred
Rhonda Brown and Ronnie
Scottish Exmoor Trophy - Native pony with most miles gained in classes under 64k
Trailtow Eriskay (Marjorie Grant)
Trooper Trophy
Kate Roberston and Lady Bathsheba
Archivist Trophy - Branch Team [top 4] with highest points
Grampian: Katie Keith, Kate Robertson, Tony Comerford, Lorna Hogg
The Pleasure Ride Bowl
Fiona Kirk and Raheeb
The Storm Trophy - Veteran Horse
Milwaukee Sunset [Andrea Mitchell]
Platinum Thistle Awards (120k)
Francis Bakker and Martje
Anne Short and Another Chance
Rachel Dewar and Gypsy Cream
Diamond Thistle awards (160k)
Sarah Norris and Southolme Blossom
3000K Award
Anne Short and Scotch Hale Bopp
Susan Thomson and Bilbo Baggins
Kathleen McGee and Foxgylls Folly
Hazel McCorkindale and Silvallyah
Lorna Hogg and De Marco
Diane Michie and Skylarks Discovery
Susan Mcarthur and Kublai Khann
5000K Award
Sheila Ogilvie and General George
Carolyn Cummings and Peterbrook Sunset Surprise
Rachel Fothergill and Royal Wonda
Alison Macleod and Lakota
Karen Cassidy and Golden Bose of Islay
Val Bertham and Frisbee
Brenda Burnett and Rasputin

Scottish Championships Series 2008
In 2008, instead of having a main Championships weekend, the Championships classes were been shared out amongst all nine SERC Branches.
Class winners were presented with their Championships rosettes at the ride, with all trophies presented at the Club AGM
SCOTTISH CHAMPIONSHIP TROPHIES 2008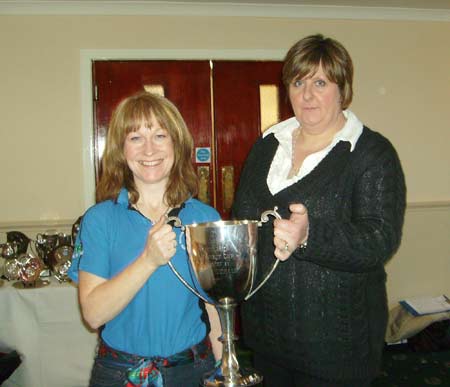 Kirstie Graham, Highland Challenge Trophy

Highland Challenge Cup 2 day 160km ER
Kirstie Graham and Arabelle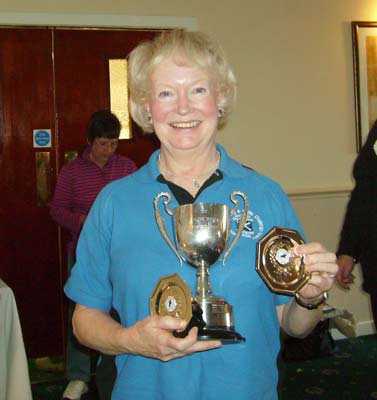 Anne Hollingsworth, Caroline Bennett Memorial Trophy

Caroline Benett Memorial Trophy - crew to the winner
Anne Hollingsworth
Drummond Trophy 80km ER
Pamela Scougall and Raas Double Cream
Hamilton Cup 60km ER
Jane Hollstein and Polmailys Lord Abu
Dinero Cup 2 day 80km
Hannah Shotton and Miss Molly Malone
Veteran Shield and highest placed horse aged 16 and over
Royal Wonda [Rachel Fothergill]
A C Burns Trophy 2 day 60km competitive
Nikki Todhunter and Fayre Savannah
Novice Silver Salver 50km Novice competitive
Constance Newbould and Zarkhruv
Alba Challenge Trophy 50km Open competitive
Anne Short and Another Chance
Scottish Arab Horse Society Salver and Highest placed Arab, Anglo Arab, PBA
Constance Newbould and Zarkhuv
Alba Junior Trophy Highest placed junior rider
Hannah Shotton
Open Challenge Trophy 30km Open Competitive
Rhonda Brown and Ronnie joint with
Hazel McCorkindale and Silvallyah