Press release – Dartmoor Training Ride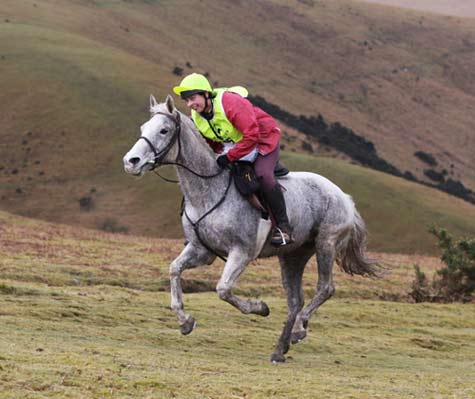 Riding on Dartmoor, particularly the colder northern side, can often be a daunting prospect, especially at the end of February. Despite a thick mist and chilly drizzle 30 undaunted endurance riders set off from Okehampton camp on Sunday morning for a 14 mile training ride across Dartmoor.
As they left at 9.50 am, the first riders could see nothing of the Moor and were only able to see the orange flag immediately ahead, flapping in the wind.
"They have all been told to stick to the tracks, and where the route leaves the track to concentrate and ride from flag to flag," said Ride Organiser and Chairman of the South West Endurance Group, Jo Chisholm, as she watched the pairs of riders leave the venue and vanish into the mist, heading towards Meldon Dam.
"It was fine yesterday and it probably will be again tomorrow but today it's a real test of endurance. The going is good but in places there are still drifts of snow on some of the slopes."
Fortunately for the horses and their riders, the cloud began to lift as they rode down the steep hill to Meldon reservoir and by the time they had dismounted to cross the dam on foot and were heading along the bridleway towards Sourton Down, the visibility was improving and they could see the route ahead.
By the time, the last riders had reached Higher Nodden and Checkpoint 2, the last of the cloud had lifted and for a while there was some sunshine, before more heavy cloud swept in from the south west.
Despite the conditions, all the riders competed the 14 mile route, including several new members.
One of these was Val Jones from Feniton, near Honiton, riding her ex-racehorse mare, Flying Artist.
"We loved every minute of the ride," said Val. "We have done some dressage but Flying Artist was bored. I started competing at endurance last summer and she loves bowling along mile after mile. This year I have become a member of the South West Endurance Group and intend to do as many rides as I can."
The first competitive endurance ride of the season in the south west will be the Wadebridge Ride on Sunday 22nd March, which includes a 20 mile Pleasure Ride.
Non members are always welcome to enter the South West Group endurance rides. For details of the Ride Programme for 2009, contact numbers and entry forms to down load, go to www.endurancegbsouthwest.com