Caerhays and Ladock Training Rides– Press release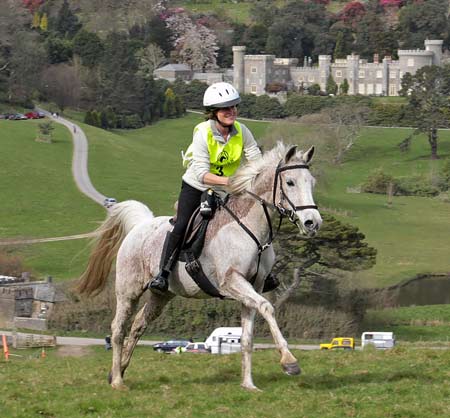 Pam Ritchie on Last Flight, still going strong up the last hill at Caerhays Castle.
Photo credit: www.mbaphotos.co.uk
It's a wonderful thing for endurance riders that the terrain in the South West is so varied that no two rides are alike. Two Sundays running, both members and pleasure riders have enjoyed two quite different rides in the same part of Cornwall
The Caerhays Castle Training Ride ride, which took place on Sunday 29th March, covered 14 miles of the estate farmland by kind permission of the Williams family.
It was a wonderful scenic ride, starting from a field next to the beach (which several riders and their horses took advantage of for dip in the sea) and following a route arranged with the generous help of Estate Manager, Arthur Broome.
It was a tough route, and best described as a "Big Dipper" of a ride, with the hills increasing in steepness the further you went. Riding it was the ideal way to get endurance horses fit for the competitive season.
One of the members of Endurance South West who enjoyed the sunshine and the rolling grassland, was Pam Ritchie from Minions. She was riding her grey Arabian mare Last Flight, who is now 19-years-old.
Five years ago, Flight had an accident in the field, which looked like the end to her endurance career but after 18 months off, she bounced back and last year was third in the 75 mile Veterans' Challenge at Salisbury.
"This year we are just riding for fun," said Pam. "I thought I would give her a nice quiet retirement but Flight has other ideas. She simply flew around Caerhays and at the end was ready to go round again."
In contrast to the steep grassy hills around Caerhays Castle, the Ladock Training Ride Ride last Sunday, was a gentler mix of woodland and fields. With the kind permission of the Duchy of Cornwall and Bob Strongman, the ninety plus horses and riders who took part enjoyed a glorious route through beautiful spring woodland and grassy fields.
There were steep uphill canters along forestry tracks and sandy paths, through bluebell woods and dark pine plantations. The scent of the pine woods in the sunshine and the smell of gorse in bloom, filled the air.
Near the end of the 10 mile route, the horses and riders passed through part of the Ladock Hunter Trial course (very impressive jumps), including the water jump. This caused a few problems for those riders whose mounts disapprove of water or those who like to bathe in it!
Many thanks to Annie Strongman who organised the ride and to Trudy Hall and Tanya Southworth for all their hard work in putting on the Caerhays Castle ride. The route markings were fault free and the sun shone all day – two perfect Sundays for both horse and rider.