ALAN M HUNT & JUDI KENT PYRAH
By Judi Kent Pyrah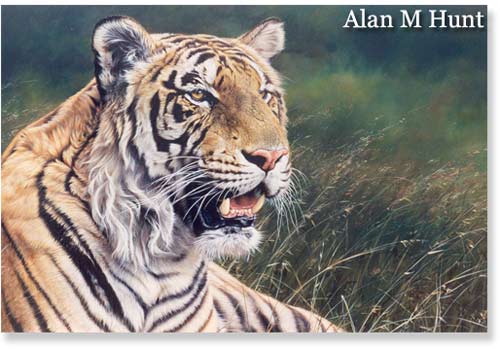 Alan M Hunt has been working as a wildlife artist (self-taught) for over 40 years. His passion for birds and all flora and fauna has taken him all over the world, studying them in their natural habitats on specialist field trips and safaries, leading bird trips and teaching wildlife art in such bizarre locations as Alaska , where whisky had to be added to the paint water to stop it freezing, hoisted 100ft up into the tropical rainforest with a minimum stay of 6 hrs. or at the top of a Mayan temple, watching Crowned Eagles at the nest while just below a fly-past of killer bees.
Alan`s knowledge and experience is profound and formidable and his contribution to conservation equally limitless, from a permanent % donation from all print sales, a constant supply of donated originals to various fund raising Auctions and Exhibitions to personal gifts of his own artisrs proofs or originals to his own special projects, as well as publicising and educating through personal appearances and public speaking the need to protect our endangered species world wide.

Alan`s achievements and recognition in the art world speaks for itself with 4 Gold Medals in the prestigeous Society of Wildlife Artists (USA) Voted into the Artists Hall of Fame ,Featured Artist at many major shows and many more individual trophies tucked into his drawer. He has been invited to judge at many shows such as the uk National Childrens Art competion, Not the Turner prize , and featured on various TV discussion and art programs.His originals are collected internationally, some of his images have been used on exclusive silk artwork and other creations, with over 300 Ltd. Editions, Prints and Giclees. T shirts and special collectables and in unique Print collections of images of animals ,birds and habitat from African Reserves supported by major companies. .

Alan`s devotion to his Art comes with discipline and hard work. Many obstacles and difficult times have not deterred his commitment to his work inspired by nature`s wonders, and the drive to conserve them have brought him so far. He is highly respected by his peers and has always helped, advised and promoted young and hidden talent.

He has the same commitment , desire for knowledge and creation for his beloved Arabians. So far so fast and yet with heartbreak and hardwork but with the same dedication and belief in what we are working to achieve at Judal Arabians will be an on going inspiration!


Through Alan`s work with animals and birds, captive and wild and through various breeding programs, especially for endangered species, he has aquired in depth knowledge, a studied and proven understanding of genetics and animal husbandry. His intense familiarisation of Arabian Bloodlines from horses photos, pedigrees and offspring and visiting Studs and shows around the world, have influenced our personal criteria and future program using the existing modest facilities we have and the collection of mares and stallions we have managed to aquire within our limitations, to ultimately contribute, through our selective breeding, aesthetically beautiful, correct and true to type, athletic horses with easy temperaments and all round performance potential.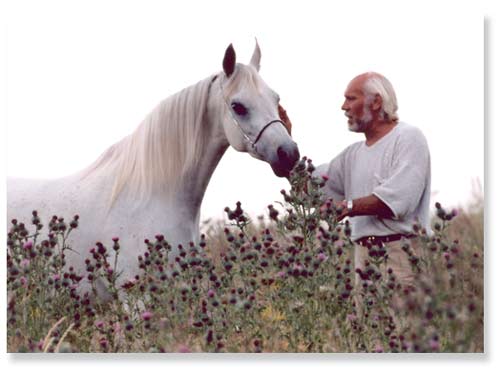 Alan & TFA Mira
Judi and Alan met through their Art. Early on in their ` business` relationship, they toured Jordan on a project for the Ministry of Tourism, Alan studying and painting the indigenous wildlife while Judi sketched and photographed the people, wild horses, bedouin horses and camels of this fascinating country and culture........

We were invited to a private presentation of horses at the Royal Stud. Their grace and beauty and history made an everlasting impact on us both. Then a very special visit to the Royal Family`s stables in the Palace grounds, and was honoured to ride King Husseins own Arab riding stallion fired my growing passion.

A friendship with a Jordanian couple, who owned and raced Arab stallions, took me out riding in the desert on a gorgeous grey stallion, who spent a lot of time on his hind legs displaying to the other stallion my companion rode. Again, with hindsight, influential in fuelling the dream of our own Arabian Stud

Judi Riding at the Royal Jordanian Racing Club
Judi & Ginha ( Harewood Ride 25miles - 2 hrs )

I was forced to relinquish my long time ambition to 3 day event after having my 3rd child at 40 and already hectic painting career.I`d owned thoroughbreds and enjoyed dressage, show jumping and hunter trialling- but never quite managed to get one horse capable of doing all three, and had trained for my BHSAI .

Alan was concerned that my falling-off record might jeopardise both my mothering duties and painting , so- after selling on my 16 3 mare, I`d almost decided to give up altogether when I kept seeing this ad for a 15 3 arab gelding I felt compelled to go and just have a look. Fate works in mysterious ways. Especially when I saw him ridden I was impressed. When I tried him and found speed, power, a brain and response, that was it. Even though he felt small at first he rode like a 16.2 , plenty in front and such athleticism , style and turn of speed,- plus he was easy to get on and off !.So great to have an Arab to suit a tall woman who had assumed they were all 14.2 !

Our 1st 15mile pleasure ride showed me exactly what is so special and unique about purebreds. In the competitive situation he just pulled out all the stops,his fluid fast trot over varied, difficult terrain seemed effortless, passing all and coming in first was exhilerating and yet on finishing I realised just how hard he`d tried for me as he plodded the short hack home
This new sport, with NO jumps, was right up my street, we had the perfect training rides, lots of hill work forest trails and open moor and our first EGB rides took us to wonderful scenic locations, great company with superb challenges. He exceeded all my expectations and the fitter the faster he got- yet always with me , he listened and looked after me and I in turn learned to balance and relax and not interfere.

What a great pal , even in retiement he learnt Western , doing spins and roll backs, looked after the novice horses , and riders, and has never ever shown a kick, buck or bite, a true gentleman.
With Ginha`s retirement came the decision to aquire a breeding arab mare ( wonderful painting reference ) and finally after a 2 year wait for the extra land we needed, researched nearby studs, visited arab shows , the nationals at Malvern and finally wept through most of the International at Towerlands we hit the ads, now we knew this mare had to be special!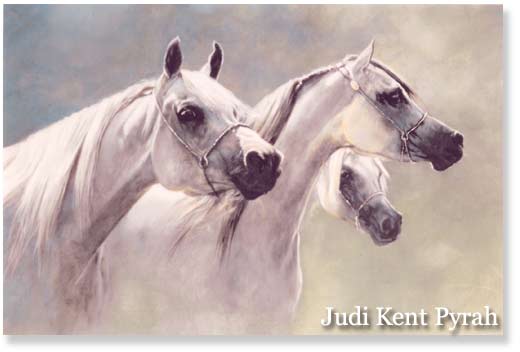 I had worked as a portrait artist for many years, horse paintings were a constant favoured challenge and featured in exhibitions, including the Society of Equestrian Artists and a One Man show in London .My painting of Charles and Diana, with horse, was picked up by the Press and was sold at the Berkeley Square Ball Auction for charity for £2,800 in 82. Sadly not long after all that brilliant publicity my marriage ended and I returned home to Yorkshire with my 2 young chidren to start again.
Ruger AMW

Meeting Alan while I was trying to rekindle my career meant that with his support company and later through international connections I was offered a major publishing contract in Canada, as their Equestrian artist, where most of my work was exhibited and published and distributed throughout the States aswell.

My signing and PR trips also provided wonderful opportunities to study many new equestrian disciplines ,breeds and training methods, all inspired more painting. I visited the trotting track and got a tremendous insight into their methods and technique, already familiar with racing Pacers in UK and have trained on a sulky on the track, was also invited to hunt coyote, at night, on top of a mountain, fascinating!

I saw barnfulls of beautiful Arabians that excercised on chopped suede and visited THE top Thoroughbred studs in Kentucky and had paraded in front of me Millions of dollars worth of horse flesh. The best was stroking the legendary Secretariat ( a real muscle man) then being escorted away by 6 security guards.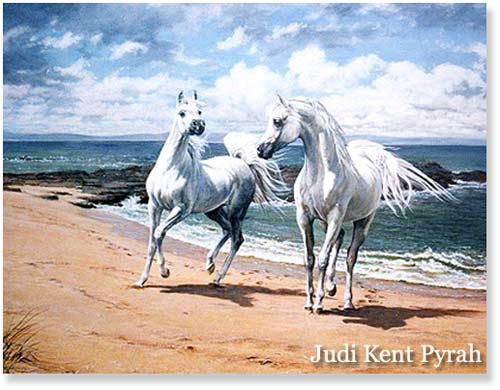 When the stud began in 1999 my painting career was ticking over nicely and with only one young son left at home , time was gradually given to our rapidly increasing collection of lovely Arabians. But I was Happy and my dreams of having an Arabian Stud and all that that entails was here and taking over my life. They are the most incredible subjects and I constantly struggle, my mental image, as in life, always surpasses the created image and this is the driving force for any artist in-love with their subject- achieve perfection ! This and the continuous learning , understanding and our deep relationship with our horses is now as vital as breathing.


Judi Kent Pyrah & Alan M Hunt
Judal Arabians
The Peasantry, Scawton, Thirsk, N Yorks.
Tel: 01845 597287 Email : judalarabs@aol.com

The Judal Arabians Stud Review CLICK HERE