I have a list of places that I would love to visit when we retire - or win the lottery, and after Christiane Thill contacted me recently I have definitely added the Cochamo Valley to my list.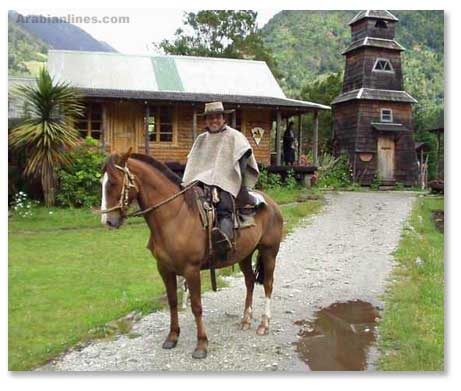 Christiane Thill, Lex Fautsch and their young daughter, Hannah live and work on their horse ranch, Campo Aventura in the outback of the Cochamo area of Northern Patagonia in Chile, South America. They specialise in offering exclusive riding holidays catering for small groups of riders. They use a Chilean horse bred locally in the mountains, it is not the typical creolo, but a mixture of various types, well able to cope with the terrain from the Pacific up into the Andes.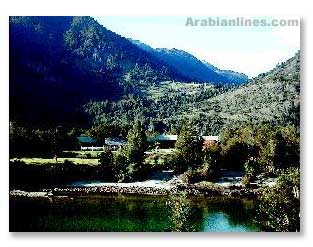 Visitors travel the legendary 300-year-old Gaucho Trail through primordial Alerce jungle into Chile's well-kept, natural secret - the Cochamo valley, which covers over 250,000 hectares of native valdivian rainforest surrounded by mountains, lakes, waterfalls and rivers. These areas of wilderness and Valdivian rainforest exist in only five locations throughout the world and 50% of these are found in Chile.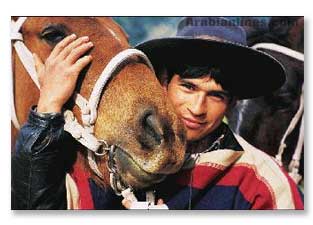 Due to its isolation it is one of the last temperate rainforests in existence, and the remote and picturesque village of Cochamo, is now accessible by a gravel road, which was only built ten years ago.

In the past only missionaries and bandits travelled to the Cochamo valley for trade and migration, or escape. Since the 1700s, it has been the path for Jesuits migrating over the Andes from Argentina. A hundred years later, an ox trail was built to bring Argentinean meat down to the Pacific and some fish up to Argentina. In 1902, Butch Cassidy and the Sundance Kid, America's famous outlaw pair, brought their cattle to the Cochamo slaughterhouse along this trail.

Travelling to this area, rich in natural beauty, is like travelling back in time. The colourful wood-shingled houses contrast with the amazing blue, sometimes turquoise, estuary waterfront and snowy topped volcanoes in the background. Following the estuary you reach the river Cochamo whose crystal clear water is rich in fish such as rainbow and brown trout, and salmon. Southern Chile is a fly-fishing utopia.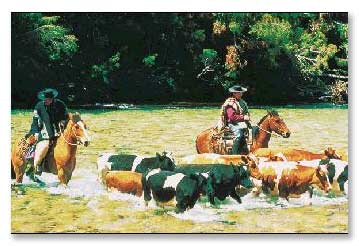 Further on the road becomes an unmarked route leading into the U-shaped glacial valley of Cochamo and this is the 'Gaucho Trail'. It is an unforgettable experience to ride upstream through this fascinating unspoilt landscape. Today only 'Huasos', typical Chilean cowboys, all of Indian origin, cross this way twice a year on strong Andean horses, driving their cows up and down the mountains. The trail is heavily wooded, and for much of the day the horses walk through canopied fern jungles. Open pasture allows brief gallops where you are surrounded by waterfalls which are over a hundred metres high, glacier-capped mountains, whilst birds such as hummingbirds, parrots and condors watch you with interest.

You'll see no sign of human presence, as fewer than 300 tourists visit each year. With an average rainfall of 3m from May to September, human settlements have never flourished in this narrow 50km-long valley of a million acres of wilderness, which links Chile and Argentina. So you'll be able to enjoy the solitude of this paradise of crystalline rivers and waterfalls in South America's well preserved temperate rainforest.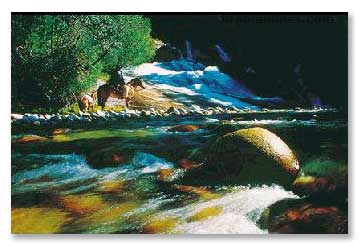 After a one day ride the spectacular La Junta valley is reached, this valley is also known as the "Yosemite of South America", it is a magical place surrounded by enormous granite domes and amazing waterfalls. After having slept well in a rustic mountain lodge enjoying mod. cons such as a wood-fired shower and comfortable accommodation, meals include 'asado' a typical Chilean barbecue which is prepared by a Chilean family. The second day takes you through the ancient wonder of the Alerce forest. Alerces are giant trees, about 40m high, which can live as long as 4,000 years. Alerces are only found in Chile, where they were awarded protected status in 1976 as a national monument.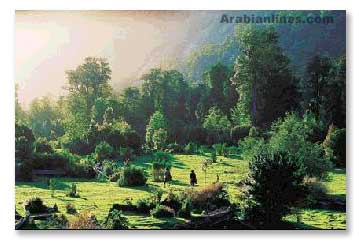 Access to this untouched region is arranged by Campo Aventura, a small operation of eco-tourism who run two lodges in the valley, the Riverside Lodge at the Cochamo river and the Mountain Lodge up in La Junta both have amazing views and easy access to swimming and fishing at their private, wild, sandy beaches.

At Riverside Lodge full board is available including fine vegetarian cuisine as well as child care and laundry service. Campo Aventura organise fully equipped horse rides from 1 to 4-day trails, but also (4 times a year) they embark on a real expedition of 10 days riding from the Pacific Ocean across the Andes following the whole trail used in the past by the Indians, Missionaries and the notorious outlaw duo.

However, apart from the conveniences of a well-planned tour, the real joy of Cochamo is for what you don't see. There are no motorised vehicles in the valley, nor electricity, a dream of times past. Far from modern tourist Mecca's, an expedition into the Andes is a highlight during your discovery of Chile, as your visit allows you to enjoy the unspoilt beauty of the native forest, rivers, mountains and waterfalls knowing that you are helping to conserve one of the most important areas of specific bio-diversity on earth.

Activities: Campo Aventura can be reached by bus, rental car or private transfer and offers the four-day Patagonia Pioneer Trail for riders and non-riders. The trip is fully equipped including horses, multilingual guides, accommodation and meals. (Private transfer from Puerto Montt airport can be arranged by request) details of the 10-day trail rides on request, contact the address below.

When to travel: from springtime to autumn - 1st of October to 15th of May is the best period for exploring Chile, especially the Lake District in the South.

Vaccinations: No vaccinations are required to enter Chile.

What to bring: A pair of lightweight hiking boots and a pair of sandals make a good combination, waterproofed raingear as well as light fleece wear are useful. Buying films in Chile is more expensive, so bring plenty with you, if you don't have a digital camera.

More information by www.campo-aventura.com
or send an e-mail: info@campo-aventura.com address:
San Bernardo 318,
Puerto Varas, X Region, Chile,
tel/fax: +065 23 29 10