SILVERDALE TRAINING CENTRE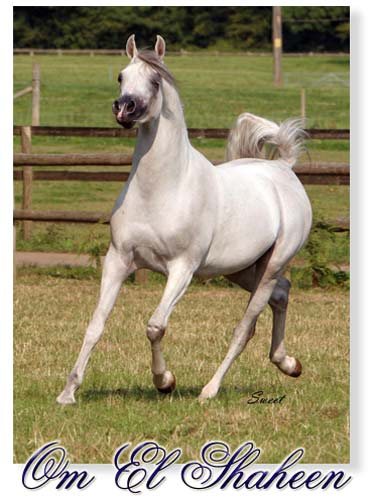 Photo: Sweet
SANADIK EL SHAKLAN x OM EL SHAINA
Type, conformation, movement, refinement and elegance are all the desired qualities that express 'The Arabian Horse'. However an Arabian bearing these qualities alone is not enough. As an adolescent the equine has to learn the fundamental manners that constitute basic discipline and good behaviour, this is not always an easy task. As with humans, each and every horse is an individual, whether that individual is strong willed and playful, or of ideal temperament is a crucial factor when determining the horse's capacity for training. The secret for successful training therefore, is that the trainer understands the individual horse with which he or she is working.
It is this understanding, combined with complete dedication that enabled me to form my own Training Centre, one of the first of its kind to formally advertise itself. The centre has been training clients' horses on a professional basis for over 12 years and over this period of time has established a very successful reputation.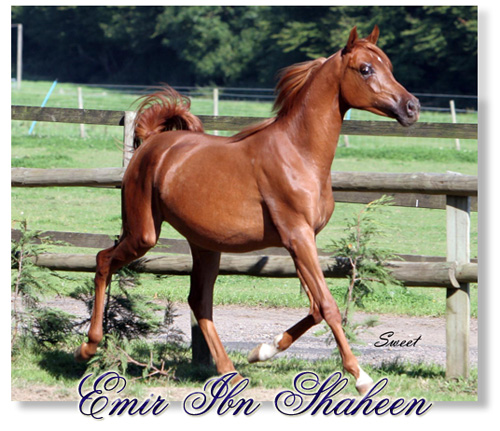 Photo: Sweet
EMIR IBN SHAHEEN (Om El Shaheen x Ewoluta)
Ch colt owned by Mrs W Carr 1st at South of England
There are no formal qualifications needed for the training of Arabian horses other than practical experience, of which I have many years. Firstly competing in young handler classes before being allowed to show my parents' horses. I believe in not only the education of the horse, but also the education in the handler, it was with this belief that prompted me to seek extra training. I had several intense weeks of tuition with Eric Dorssers, which consisted of not only the finer points of training the Arabian for the in-hand class, but also the preparation required for the physical conditioning of the horse, an element of training which is as important as the inhand training itself. My enthusiasm grew considerably with my newly acquired knowledge as did my confidence in the ring, but I do still firmly believe that even know there are still lessons to be learned!
My reputation has stemmed from the successes I have attained with the horses I have shown for Silverdale Arabians, which although an entirely separate enterprise from the Training centre they are both based at the same premises.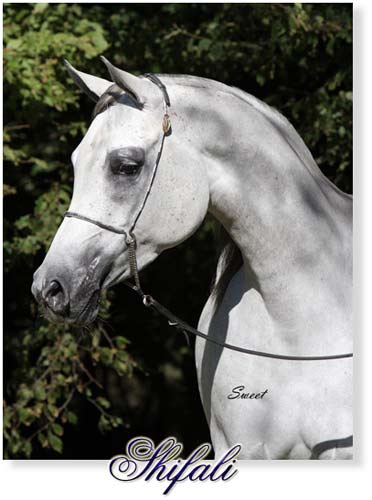 Photo: Sweet
SHIFALI (FS Bengali x G Shyamasri)
Grey mare the ribbons. Silverdale owned, in 2005 1st & supreme pf the show UK Gold, 2nd Malvern & 2nd Towerlands

Photo: Sweet
EWOLUTA (Piechur x Erudycja)
grey 18 yr old mare owned by Mrs Carr res Ch Classic 7 Veteran Ch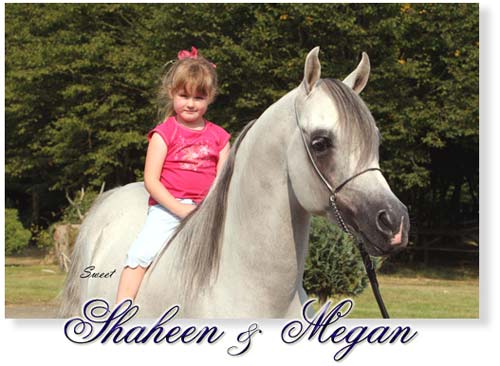 Photo: Sweet
OM EL SHAHEEN (Sanadik El Shaklan x Om El Shaina)
owned by Mrs R McCormick & Mr & Mrs Rodgers in 2004 winner at Merrist wood & Res Ch, Winner & Res Supreme at UK Gold & winner at Towerlands
In the past I have held several seminars, the basis of which covered all the fundamental aspects of a training program for the in-hand horse, I believe, whilst conducting a seminar, it is very important to get across to the audience the importance of assessing and understanding the equine mind before embarking on a training program that consists of both discipline and compassion.
It is now my intention to focus on the future for the Amateur Handler, in doing this I intend to hold seminars throughout the year to help guide the Amateur in the training, conditioning and preparation of the Arabian horse, as well as introducing to the general public the versatility and enjoyment to be had from owning an Arabian. I would like to encourage the Amateur Handler classes, which I think should be held at as many shows throughout the show season.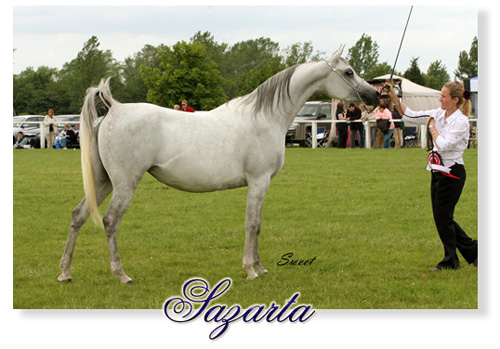 Photo: Sweet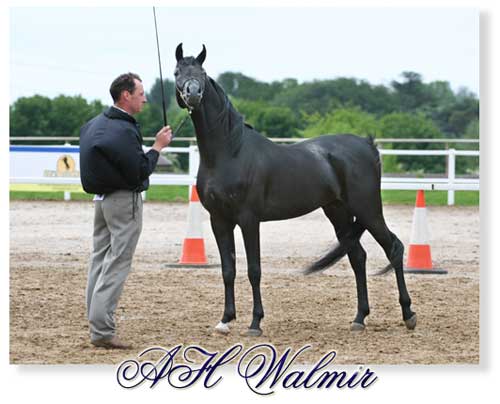 Photo: Dean Ingham ( Aztec )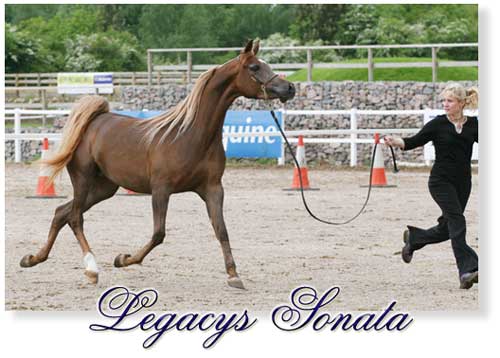 Photo: Dean Ingham ( Aztec )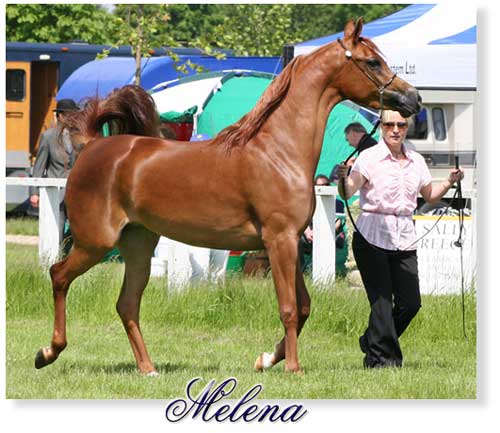 Photo: Dean Ingham ( Aztec )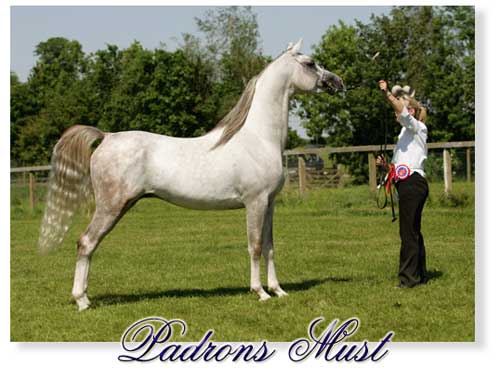 Photo: Keith Curtis
The Silverdale Training Centre is managed by a handful of people, experienced and dedicated to the well being of the horses in our charge. I do the majority of the training, but my husband Seamus gets as involved as myself, we work closely together and assess each horse individually on a day to day basis, making sure every horse is coping with the training and at the same time benefiting from it as well. We run a strict policy where the welfare of the horse is concerned, an unhappy horse will not show itself as well as a happy and confident one. All the horses lead as normal life as possible, being turned out to grass for a couple of hours a day. They are then worked either in-hand or physically conditioned in the sand ménage.
I like to have the show horses in my care for at least 4-6 weeks training before they enter a show ring situation, this gives them time to get to know their handler and allows a bond to form, a mutual respect. Prior to this however the horses are given all the time they need to settle into their new home, each individual is different and some take longer than others. I am always happy for any of my clients to come and visit their horse throughout any stage of the training. I always like to keep my clients informed on their horse's progress and try to advise and help in any way I can.
On this note I wish to extend my help and knowledge to the Amateur handler as this is going to be a new venture for me, I intend to do all I can in encouraging both handler and horse in every aspect of the 'In Hand Training'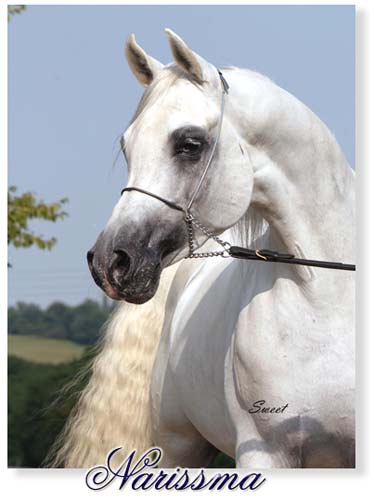 NARISMMA (wsa Charismma x Nazieka)
grey stallion owned by Rebecca 1st & ch Hocon, reserve Ch Egyptian Event
Photo: Sweet www.sweetphotography.com