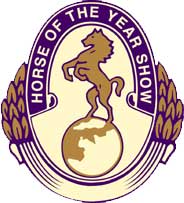 HORSE OF THE YEAR SHOW – 2002 REPORT
RESULTS AND PHOTOS BY CLAIRE A. WARD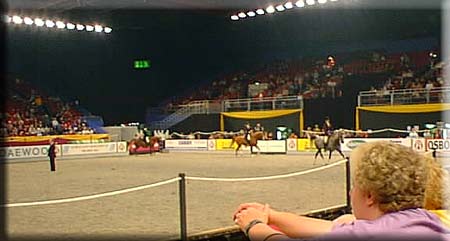 Parade of 1st & 2nd prizewinners
of the three Arab Classes now being judged for the Championship
Photo Claire Ward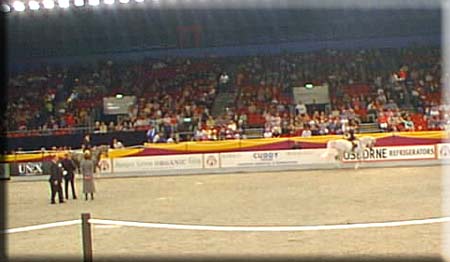 As above.
Photo Claire Ward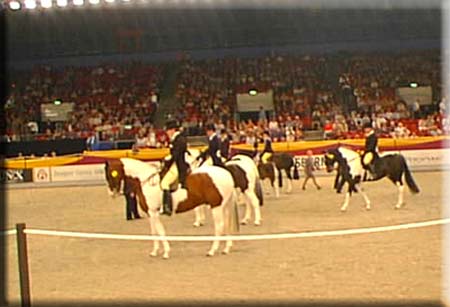 The coloured championship, most marvelous little childs pony of about 11 hands won this, a real daisy cutting show pony type.
Photo Claire Ward
I was a little late in arriving and unfortunately missed the first half of the gelding class being judged for their "rides". The ride judge Mr. John Conify was a very sympathetic, quiet rider, allowing each horse plenty of time to give of it's best. He was quick, but thorough ad didn't keep anyone hanging around.

Conformation was very ably assessed by Sue Woodhouse in a small section cordoned off by white paling fencing right in front of where I was sitting in the Horse & Hound Arena.

The arena was in my estimation 15/16th's full and at times people were finding it difficult to find a seat. Those who had seats generally stayed put!

Eleven out of twelve entries were forward for the gelding class. A strong class of very handsome horses of differing conformation and composition, difficult to judge (glad I was not doing it)

RESULTS 36A: Ridden Pure Bred Arab Gelding of the year.
1st
439
JOHARA EL KHEIL Grey: 7years:
Sire: INDIA: Dam: INDIAN SERENA
Breeder: Mrs. Moore: Owner: Mrs. & Ms. Alfrick, Worcs: Rider: CLAIRE FITCH (Also received the BEST TURNED OUT Award)
2nd
447

SILVERN ENCHANTER Grey: 8years
Sire: SILVERN SCEPTRE: Dam: CRYSTAL NAZERA

Breeder: Mrs. Bowring & Mr & Mrs. Peck: Owner: K. Lake,Blackmore Essex: Rider: DARREN CROWE
3rd
448
VIKTA: Chestnut: 8years
Sire: KASADI: Dam: SOPHY
Breeder & Owner: Mrs. M. Calvert, kendal, Cumbria: Rider: JANET CHADWICK
4th
443
MOSCODIN: Chestnut:15years:
Sire:MUSCABAR: Dam:ROSALBA
Breeder: Mr & Mrs. Backhouse: Owner: Miss N. Perry, Stanford-Le-Hope,Essex: Rider: Ms LINDSAY HILLYARD
5th
444
MUZONOMY: Chestnut: 5years:
Sire: GOLDEN SUMARAI: Dam: MUZEHRAA
Breeder & Owner: Mrs. M.A. Wragg, Melton Mowbray, Leics. Rider: JUSTINE CRAWFORD
6th
438
THELDANAS ENIGMA: grey: 7 years:
Sire:ELDON: Dam: LUZHANA
Breeder & Owner: Miss S.M. George, Minehead, Somerset: Rider: RICHARD MILLS
7th
442
MILLHANGER PTOLOMY: black: 9 years:
Sire: AL SIRHALIMA(USA) : Dam: TANYE RAMA (USA)
Breeder: Millfield Stables Ltd, Hamilton, Bermuda: Owner: Mr & Mrs. ST. George-Smith,Hambleton, Lancs: Rider: KAREN ST. GEORGE-SMITH
8th
437
AL KAMIR: chestnut: 6 years:
Sire: WHITE KOSSAK: Dam: REDHOUSE NAOMI
Breeder: Rachel Webber: Owner: Caroline Pope, Benfleet, Essex. Rider: NIGEL FULLER
9th
441
MALEIKERO: grey 9 years:
Sire: DAKSHAH: Dam: MALQUEDA
Breeder: Ms. N.Haworth: Owner and rider: ANDREA BOYLE, Wootten Wawen, Warks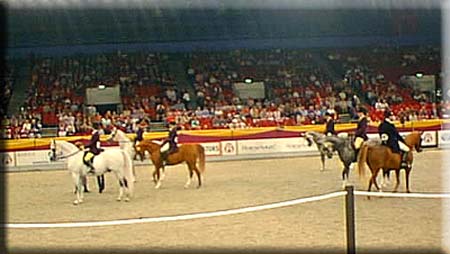 Called in, a decision to be made shortly.
Photo Claire Ward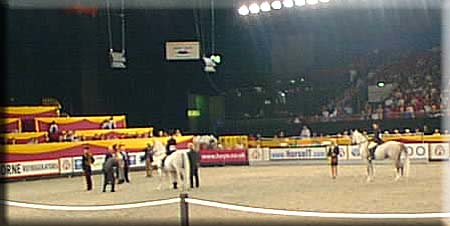 Decision made!
CHAMPION Number 439 the gelding JOHARA EL KHEIL
RESERVE CHAMPION Number 461 the stallion AL MESDAM

Photo Claire Ward
The Arab mare class brought forth nine out of twelve entries. Although down in number, still a strong contingent of very beautiful and different horses. I have for this class given a small description of the judge's ride of that particular horse below the result for each horse. (This is entirely my own opinion and has nothing whatsoever to do with the actual judging of any of the horses)


RESULTS 36b: Ridden Pure Bred Arab Mare of the year.
1st
449

AFRICAN SHU SHU: Chestnut: 6 years:
Sire: AFRICAN GOLD: Dam: SHUBULA

Breeder: Mr. C. Mackenzie: Owner and Rider: SONIA WHITTINGTON-DAVIS, Inverness, Scotland

"Nice compact short-coupled mare with a nice balanced trot with good changes, steady pace and nicely on the bit"

2nd
451
JASMINE: Chestnut: 9years:
Sire: ZACARIA: Dam: JAMEELA
Breeder: Mr & Mrs J.S. Bundy: Owner: Barbara Matthews, Newton Abbot, Devon: Rider: WENDY GIBSON

"Nicely put together mare, very well-mannered with good changes, although nerves seemed to produce a certain lack of elevation "

3rd & Best Turned Out
460
SOUTHERN MASJIC: grey 15 years:
Sire: MASJIGAL: Dam: SOUTHERN SILK
Breeder: Ms.K. Darbey & Mr. C. Noon: Owner: S.Rose, High Ongar, Exssex. Rider: DARREN CROWE

" Very nicely put together mare, didn't seem to quite hit it off with the judge, seemed rather unbalanced and off the bit to begin with, improved towards end of the ride"

4th
450
CAZ KAZURAI: Chestnut: 8 years:
Sire: SHOGUN Dam: KAZMINTA
Breeder: Mr. H.C. Birdsall: Owner: T.O. Aggas, Englefield Green, Egham, Surrey: Rider: CRISPIN MOULD
"This is the mare for me!!**, rich deep chestnut, beautiful body really fills the eye, enjoys being ridden but not being asked to come on the bit too much ( couple of buck threats in mid-arena during change of rein) caused an "OOOAH" from the crowd. Lovely movement and paces."
5th
455
MARZOOKAH: chestnut: 6years:
Sire: AMAL: Dam: JOHAR
Breeder & Owner: Mrs. J. Alexander, Tyldesley, Manchester: Rider: KIRSTY BROWN

" Lovely mare with a big trot, a little unhappy in the mouth, could be bits of the double bridle are too thick/wide, improved at the canter"

6th
452
JAZMYN: chestnut: 9 years:
sire: KASADI: Dam: SOPHY
Breeder: Mrs. Monica Calvert: Owner & Rider: KIT ROLFE, Halstead, Essex

" A stand out in the crowd mare with lovely white stockings giving a fine display of obedience with nice transitions and good elevation in trot and canter, nice free moving mare, another mare for me!!!**"

7th
458
RAMILLA: grey: 11 years:
Sire: GAYMET: Dam: RADSILLA
Breeder: Mrs. G.A. Paul: Owner & Rider: CHARLOTTE DABBS, Walsall, West Midlands

"A lovely mare, looking bigger than her 15 hands due to her long striding, flowing, effortless paces showing cadence and impulsion – she went even better for Charlotte, a young rider with a calm relaxed manner that obviously RAMILLA felt very safe with; ( a rider to watch out for in the future of ridden Arabian classes)"

8th
453
JEDRANI EL SHAKLAN: bay: 9 years:
Sire: MALHABI EL SHAKLAN: Dam: ESTOVIA
Mrs I & Miss K. Brooks: Rider: KAREN BROOKS.

" A beautiful bay mare ( lets have more bay breedings please) with an exceptional affable and well-mannered nature, so relaxed she tended to lack a little lustre on the day. Nice even paces if a little short, but went very well for the judge, a surprising result, she should have been higher"

9th
454
KALISTA: grey: 9 years:
Sire: F.V.A WONDER:" Dam: KRONA
Breeder: Mrs. S.A. Watts: Owner: Mrs. B. Rowell, Alfrick, Worcs: Rider: CLAIRE FITCH

" Well put together mare lacking a bit in presence on the day seemed to cause her paces to flatten although she did exhibit a good extension in trot"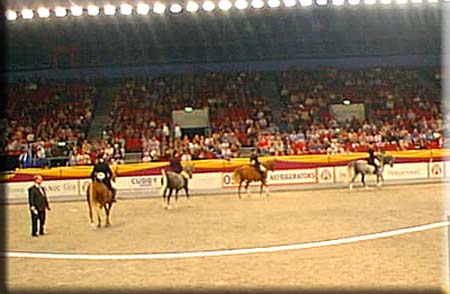 The unchosen ones leave the ring!

Photo Claire Ward
The stallion class produced nine out of thirteen entries forward. The stallions varied more in type and conformation than did the geldings and mares. All were wonderfully behaved no coltish antics from any of them, must be some sort of a record in a stallion class! Once again I have made a personal comment on each horse under it's result. This was done whilst the judge was riding that particular horse. Each comment is my own opinion and has nothing to do with the actual judging itself.


RESULTS 36C: Ridden Pure Bred Arab Stallion of the year.
1st
461
AL MESDAM: grey: 13 years:
Sire: SILVERN IDYLL: Dam: SHERIFAH
Breeder & Owner: Mr. Z. Edrees, Cranbourne,Windsor, Berks: Rider: Mrs. SHEILA FLEMING

"15.1 hands and a big handsome horse with depth of body and substance, producing a big balanced, long and free striding ride, coupled with good manners he must be a joy to ride, couldn't fault him at all"

2nd
469
PHA SILVERN RISALM: grey: 8 years:
Sire: SILVERN SCEPTRE: Dam: RISLINA
Breeder: David & Jean Peck, Owner: Tiffanni McCarthy, Wanstead, London: Rider: DARREN CROWE.

"Another fantastic stallion, not much in it between 469 and 461 except perhaps the extra height and experience of 461. A very good calm, obedient performance producing continuity in all paces

3rd & Best Turned Out
467
NAJMEH SHAZARA :grey: 11 years:
Sire: SHARAZA: Dam: SALABELLA
Breeder: C.P. Evans: Owner: Vivienne Nelson, Corwen, Clwyd: Rider: KIRSTY NELSON
"A beautifully put together gentleman with big, elevated long striding paces"
4th
462
CAS IBN KALIBUR: Brown: 6 years:
Sire: PHOENIX KALIBUR: Dam: SHALIEKAH
Breeder: Mr. H.C. Birdsall: Owner: Miss K. Ross, Diss, Norfolk: Rider: ALLISTER HOOD.

"What a fantastic rich chocolate colour, not often seen in Arabs these days. A very smart, short-coupled chap who provided the judge with a very collected balanced happy ride. In fact this stallion seemed to have a happy and trusting aura emanating from him, his ears were always forward denoting his enjoyment and concentration upon the situation"

5th
466
MOASHIRO: grey: 12 years:
Sire: GUAL MOGHAR: Dam: BINT ESTASHA
Breeder: Mr. H. Merz: Owner: Judith Powell. East Grinstead, Sussex: Rider: PAT SMEDLEY
"A nice boy, well mannered but lacking a little presence on the day seemed to led to a stilted trot, much better canter and gallop"
6th
464
MADRID IBN MAXIMO :grey: 10 years:
Sire: G G MAXIMO: Dam: RIALLA
Breeder: Major and Mrs. T.W.I. Hedley: Owner: Mrs. A. Hedley, Kirkby Lonsdale, Cumbria: Rider:KATHRYN HOUGHTON
"A very beautiful dappled grey, well made horse. Seems to be rather too speedy, a little uncollected, nerves I think, got better towards end of the judge's ride"
7th
471
SAROUKH: bay: 10 years:
Sire: MUDASSAH: Dam: DP BLACK SARONG
Breeder: Mrs. Anne Hawke: Owner: P. Wainwright: Rider: WENDY GIBSON
"Nice horse, similar to 462, nice paces, rather quiet at first until judge asked for a little more"
8th
465
MATRA: grey: 12 years:
Sire: MUSTAPHAH; Dam: SERA CHAR LANNEY
Breeder: P. A. Harrison: Owner: Ms. B. Purkis & Mr.J.C. Poole, wickford, Essex. Rider: NIGEL FULLER
"Very obedient horse who certainly knows the ropes, producing a long flowing canter with good transitions"
9th
470
SAMHIRE: Chestnut:11 years:
Sire: SAMYR:" Dam: SAPPHIRE LADY
Breeder: Mr. & Mrs. A. Ryder: Owner & Rider: MISS. J. DAVIDSON, Nuneaton, Warks
"This horse has lovely paces, especially trot, but not until it comes down onto the bit properly when both rider and horse relax a bit more"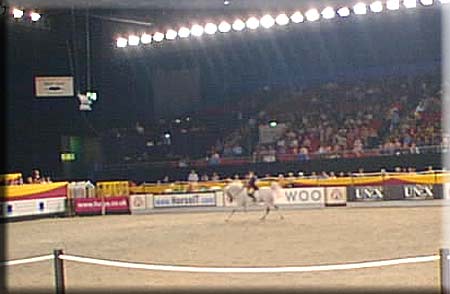 Victory parade of the
CHAMPION:-
JOHARA EL KHEIL
Photo Claire Ward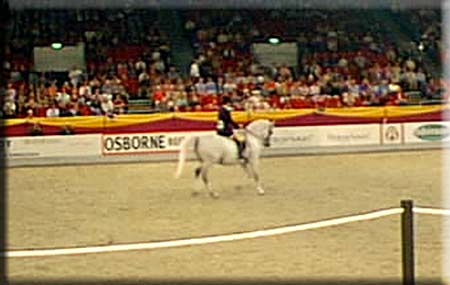 Victory parade of the
CHAMPION:-
JOHARA EL KHEIL
Photo Claire Ward

ARAB CHAMPIONSHIP
HORSES FORWARD FROM:
Class: 36a: = numbers 439 & 447
Class: 36b:= numbers 449 & 451
Class:36c: = numbers 461 & 469

CHAMPION Number 439 the gelding JOHARA EL KHEIL
RESERVE CHAMPION Number 461 the stallion AL MESDAM

---
Graphic design by Arabian lines