THE SOUTH WEST ARAB GROUP
In-Hand Showing demonstration, and display sale of horses 2005
By Sue Bundy

The in-hand showing seminar and display of sale horses on the 26th march, received over 250 spectators with 21 horses forward on the day.
Thankfully the day was sunny and the atmosphere was friendly. It was so good to meet our friends who had been shut away all winter, this was the start of the season, and we think it went with a bang!
Organised for the South West Arab Group by Sue Bundy, ably assisted by husband John, the day couldn't have flowed any better with out DJ, Dave Whittard. He is a real star. He is booked for the next event definitely.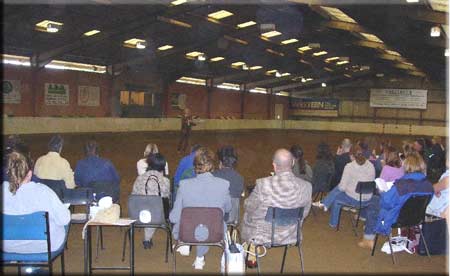 Joanne Lowe on rules and regulations
We started with an interesting talk from Joanne Lowe on rules and regulations with regard to in-hand showing in particular. Being an excellent speaker, she also put over the point that show organisers should be treated with respect and courtesy, something sadly lacking more and more today. We couldn't agree more Joanne.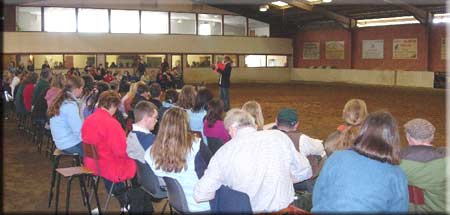 Andrew Tonge on showing your horse
Then Andrew Tonge came forwards, he completely covered showing your horse from feeding, to the end animal stood before you, he also was quite brave, and answered many questions thrown at him from the floor. Coping well, he carried on with two lovely horses as his guinea pigs for the day, one being Pat Hannays Mare, Woodlay Angelica who won last years Princess Muna Saddle of Honour. She was displayed wearing her saddle that she holds for one year; sadly she returns this at Malvern. Wayne Walker, who is a talented handler, assisted Andrew with the horses.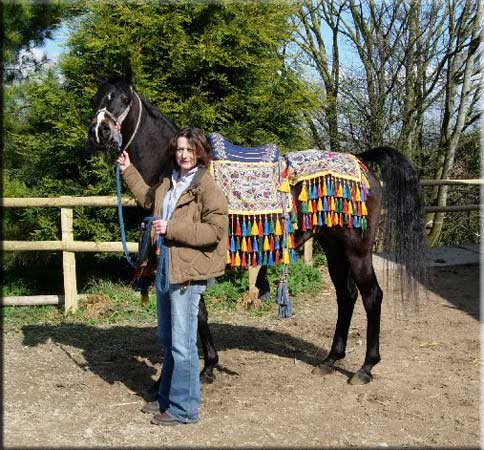 Pat Hannay & Woodlay Angelica
To wake the crowds up a bit, the music became quite loud! Dave played the Can Can…….and in trotted Magdalina, with the athletic Caroline Reeves running in like a gazelle! The crowds clapped and stamped their feet, the noise level rose as this spectacular mare sailed down the long side of the arena, her trade mark high tail carriage, and extreme movement, moved all of us. Everyone appreciated this display from this 19 year old mare, and we too appreciated Caroline for going to the trouble of bringing her all the way from Sussex just for us to see the perfect finished Arab in the showring……..great stuff.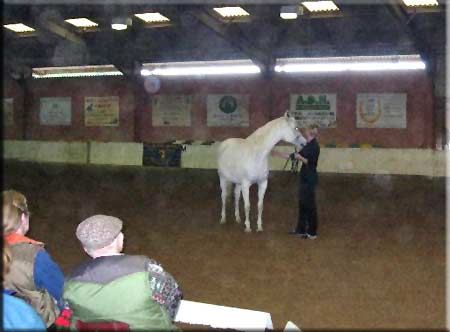 Caroline Reeves & Magdalina
( For those who missed the fun at the display: - See Magdalina at Aachen click here )
Next to the tune of sex bomb, came Nick Arnold, he holds the audience well, a born entertainer and more importantly a knowledgeable man who was not afraid to share his knowledge with the many questions and answers he coped with. He pointed out some views from the judge's angle, and everyone enjoyed the chance to speak to him.
Patricia Lindsay very kindly gave a free covering to Equipunek, one of her Pure Polish Stallions in our raffle, so she brought him along to do a display, he was well received, and Patricia gave a brilliant commentary while her stallion trotted out to a some good disco music.
The raffle was drawn next, and Dave Whittard again showed his skills entertaing the crowds as he handed out the winning tickets, the first prize being the free covering to Patricia's stallion. There were whoops of delight from a young girl in the front row as she held her winning ticket.. I saw them later being given a private showing of Equipunek. I never found out who won the Belgian chocolates, they looked smashing.
Michael Harris gave the introduction to the start of the sale horses, always a good speaker, he laid the way to our first entry a very smart Crabbet mare who I understand was sold on the day, as were four others. I have yet to get more feed back as to how many were sold, but looking at the crowds hanging around stables I think it was more than the four I knew about.
I have to mention the end of the day here. I had put out over 200 chairs in the arena first thing in the morning, I have to say by the afternoon, I was absolutely worn out, when everyone left, the chairs loomed out at me. I knew they had to be stacked away. A gallant 'Team', consisting of, and organised by Bob Bates, included, John Howell, David Holland and Wayne Walker, really made my day by stacking and removing the said chairs. Thank you so much, you are real gentlemen indeed.