NWRGAHS SHOW REVIEW
By Ann Grogan
Foal, Youngstock, Amateur Show and Open Stallion Parade
Landlords Farm, Westhoughton, Lancs - 9th October 2005
With some trepidation, it was decided to hold the very first Foal, Youngstock, Amateur Show and Stallion Parade. Would people come? Would it be a success? With hindsight there was nothing to worry about as the show was extremely well supported and a wonderful day was had by all.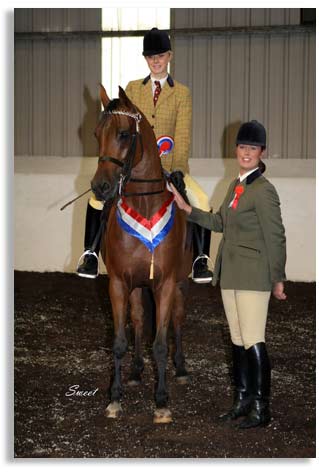 Azure Bay
There were good entries in most classes although not all came forward as can be expected. The Amateur Ridden section was judged by Miss Joanna Smith and her Champion and Reserve was Azure Bay, exhibited and ridden by Miss E Harrison and Ali Shammal exhibited by Mr M Lewis and ridden by Miss C Street, respectively.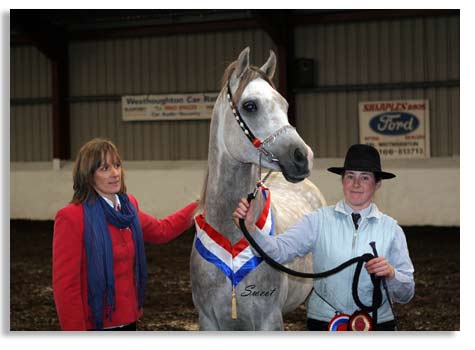 Ohio
The Amateur Home Produced In Hand classes were very well supported and in one of the classes we had 9 entries and 10 forward. It didn't really matter, who's counting anyway? Our In Hand judge, Mrs Kathy Houghton did a fine job as I'm sure most who attended the show will agree. Her Amateur Home Produced Champion was Ohio, a very nice grey pure bred stallion by Raz Al Jadi out of Az Enigma exhibited by Miss D Hill. In Reserve was a lovely part bred yearling gelding Hooray Henry, bred by Mike and Jayne Johnson out of Gordon's Ginny by Malik Ibn Rostam. Hooray Henry is owned by Nikki Hamilton, this was her first Arab show and as you can imagine she was over the moon.
We were all delighted with the Foal classes. Mirage Psynergise by Psynergy out of Farrida bred by Sally Roberts and owned by Miss A Bethell, won the Pure Bred Colt Foal class. He is full brother to Mirage Psyndikate who has been a prolific winner and I'm sure all are hoping baby brother will follow in his sister's footsteps.
The Pure Bred Filly / Gelding Foal class was won by HT Karelia, bred by the Woodward family by Shaikh Al Kuran out of Karimda, another top class filly from the High Tor Stud. Second in this class was the gorgeous chestnut filly foal, Chamin E by El Amin out of Marih Loretta, owned and bred by Mark & Claire Moore. I'm sure all those who saw this charming filly, trotting around the arena at Birchenley Manor at our Spring Show, with her championship sash, will never forget her.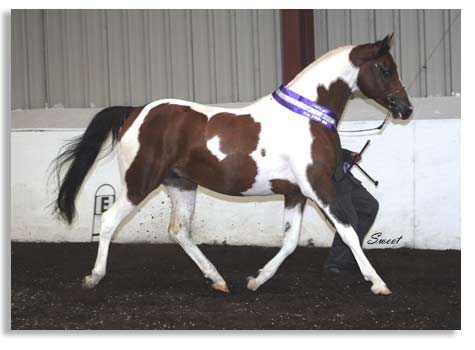 A Chance of Fame
The Part Bred/Anglo Colt Foal class was won by a delightful young man, Gadabout. He is by Rotherwood Giggalo out of Chasecroft Dimple, owned and bred by Mrs Margaret Ogden-Bailey. A fairy tale bay filly foal, Marcosie Tiiger Lilly by Strinesdale Mastermind out of Deehaven Tinkerbell was the winner of the Part Bred/Anglo Filly Foal class. She is owned and bred by Mr T M Buckley.
Only one entry forward for the coloured foal class but wow, what an entry. A Dream Come True, a skewbold filly by Blacklord Sirdar out of Moonstone's Baby Pie exhibited by Mr Nigel Grogan, brought the house down. Looking more pure bred than some pure breds, she trotted effortlessly round the arena, tail over her back, giving a 20-20-20 for movement performance. Amazing! She was Mrs Houghton's Foal Champion with the fairytale foal Marcosie Tiger Lily in Reserve.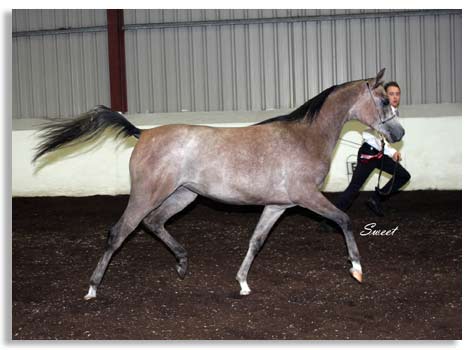 AJA Angali
The Open Youngstock classes were generally well supported but a few more partbreds and coloured enteries would have been nice. The Champion sash went to AJA Angali by Kubinec out of AJA Beneja owned by Mr Alf Hallworth. A truly top class yearling filly, destined for great things ahead. In Reserve was another of Mr T M Buckley's beautiful part breds, this time a quality bay/black two year old cold by Sudden Finality by Cusop Dark Secret out of Cusop Jasmine.
The Stallion Parade was great fun with 13 entered and 9 forward. It provided fabulous lunch time entertainment. Being an Open Stallion Parade, we had a selection of different breeds represented including a gorgeous Caspian, Sports Horses, Welsh Section D, an American Show Horse & a Coloured Part Bred. Of course the pure bred boys were there giving it plenty. My own personal highlight of the day, was when father and son Malik Ibn Rostam and Rashiek Ibn Malik came in together and did the most amazing trot, side by side, down the centre of the arena. It brought a lump to my throat. One reason being it was Malik Ibn Rostam's first ever outing, although 14 years old, he had never left his home before. Owners Elaine Preston and Peter Hogan should be very proud of him he behaved impeccably and was a very respectable second place in his class.
To conclude, the show was a great success and much positive feedback has been received. It was a truly friendly show, with rosettes to all competitors, a great venue and a great atmosphere. The show, for me, was summed up when a young lady who had only ever done local Pony Clubs shows before, rang to thank me for a wonderful day. Although she came 5th out of 5 in her class, she said it had given her a real buzz and that she had learned an awful lot from watching the other competitors. It has given her the encouragement to attend some Arab shows next year.
Now that's what it was all about ! ! !