BYCHAN ARABIANS OPEN DAY
was held on Saturday 6th August 2005.
by Jackie Keen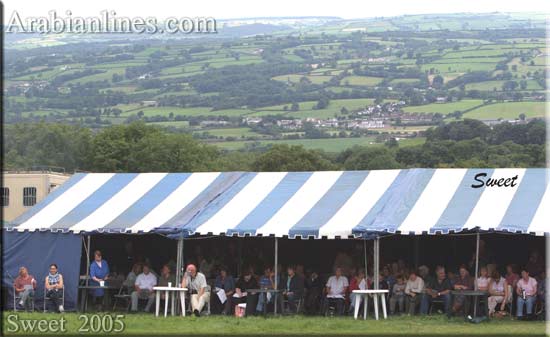 Bychan Arabians is set amongst the tranquil hills of the beautiful Towy Valley in Carmarthenshire, South Wales. The views from the farm are just stunning and with the red kites flying above you this is the place to spend a Saturday afternoon.
The day started off with drizzle, but as the morning wore on the weather started to dry up - you could actually see the clouds rolling away and everyone got up off their knees from praying!
On the yard it was a hive of activity - horses washed, brushed and spruced up for the afternoons visitors, whilst in the marquee the food was being laid out, sound system checked and tables and chairs set out.
Visitors started to arrive and we were treated to a spectacular display of horses from Bychan Arabians.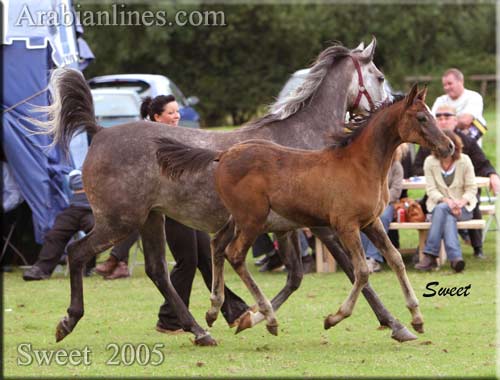 Foal on springs ex MadMonk's mare Desdemona
First up and opening the parade was Mirage Magnikate (Psynergy/HS Mimosa) bred by Sally Roberts and shown by Ryan. This outstanding bay colt is to hopefully follow in his sister Mirage Psyndikate's, footsteps by competing in the Futurity class in Aachen. He had recently been weaned and is to be shown by Rhodri.
Next came three youngsters by Emiratus B. A bay yearling colt, Siam B (dam: Siametta), and two chestnut two year old fillies Emoza (dam: Ozana) and Alianda B (dam: Alianda). On a sad note we were told that Alianda died an hour after foaling and following a call to the National Foaling Bank, Alianda B - who is a half sister to the well known Ora El Masri now exported to Saudi - was duly taken in the back of the car to Lynne Lidbury in Bristol, who cared for her until weaning. All three of these horses showed the quality and type gained from breeding the mares to Emiratus B.
Psypsynatti (Psynergy/Lyanka) who was the first and only Psynergy foal born in the UK in 2003 came proudly into the arena with Rhiannon. He is very much like his father and although he was a late foal (August 2003) I feel that this has not hampered him at all as he is large and full of life. Due to Sue and Emrys owning his father, this superb colt is for sale.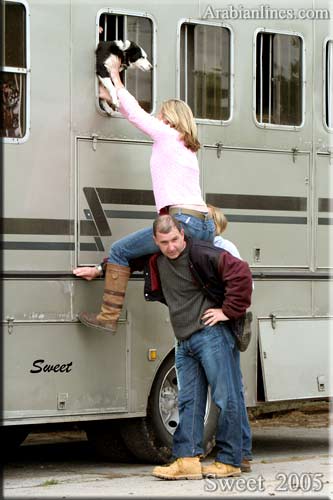 MadMonk to the rescue!
Not to be outdone here, Spot the sheep dog decided to do a kamakazzi act by trying to jump out of the lorry window, but unfortunately got stuck. Well to the rescue came our very own Raymondo and Victoria. I feel sure that Raymond only wanted to pic Vic up really and the dog was just an excuse. Anyway with a bit of pushing and pulling one Spot Dog was returned to the ground totally unharmed and none the worse for her ordeal.
Next came the straight egyptian grey stallion Muhajjal (Imperial Imdal/Maar Bilah). This big moving stallion who gained straight 20's for movement at N.W.R.G. show has sired only one colt with all his other offspring being fillies. At present he is on lease to Bychan Arabians from Ariela Arabians, Israel and has proved a very valuable addititon to Bychan.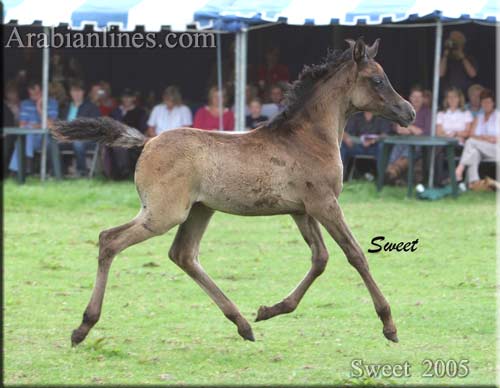 Six day old straight egyptian filly
One of Muhajjal's babies came next to a chorus of "oooh's and aaah's" from the visitors. She is a six day old straight egyptian filly (dam:Oryetta) and she looks like she will stay black - if so she is one of only two blacks ever bred by Bychan and both of them by Muhajjal. This filly oozes quality and attitude and I look forward to seeing her in the showring in the future.
On show next were a selection of mares with foals by Psynergy. A chestnut colt foal with Yannah (Elton/Yakima), a chestnut filly foal withOzana (Power/Atmosfera) and a chestnut filly foal with Yasmeena (Menes/Yakouta). All of these mares had been show winners and their foals are well put together, have pretty heads, good limbs and move with that "look at me" attitude.
We were then treated to a display from last years Supreme British National Champion, Hanniyah (Psytadel/Hanina). This amazing filly who moves for fun has a show record which would make any owner or breeder proud.
Following Hanniyah came Master Design GA (Versace/BEA Society Belle) who gained the title of Junior British National Male Champion and Reserve Supreme BNC on only his second outing in the UK this year. This two year old colt is proudly owned by Rhodri and they have become an inseperable partnership gaining many well deserved top titles.
A selection of horses from the "Show Team" were then bought in for the visitors to admire - Emenes (Emiratus B/Yasmeena) Supreme Junior Champion Wessex Summer Show, Yokosuka F (Elton/Yarra) Reserve Reserve BNC Filly, Aazekah (Aazari/Bey Sheba) Supreme Junior Champion S.E.A.H.S., Forever Besson (Besson Carol/Forever Czar) Reserve Champion Junior Male Midland Show, Liana (Aurelian/Lyanka) Champion Bath & West, Erros (Muzzalins/Emi) BNC Gelding, Psynrtra (Psynergy/Patenta SE) 2nd BNC Yearling Colt, Pysameena (Psynergy/Yasmeena) 2004 Reserve BNC Foal Champion and Psyreesh (Psynergy/Gretta) 2005 Reserve BNC Foal Champion.
These and a number of show winners are produced for the showring by Rhodri and Rhiannon - Ryan now has a yard just outside London and is producing Show Champions, namely Audemars PA, AJA Svengali, Thundaa to name but a few. I think you will agree that the show results achieved by this dedicated small team speak for themselves.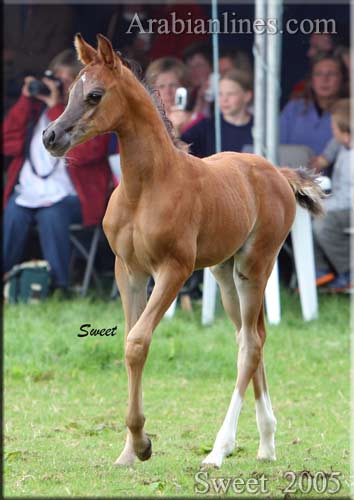 Finally came Martina Nareena (Al Hakkim/Nareena). This mare was one of twins - her brother who was the largest unfortunately died . "Twink" (as she is known at home) being the smallest and with the help of the vet Martin (hence the name) survived and has gone on to produce some outstanding foals - Grando, KayGeeBee and Psyanara. At foot she had a ten day old Psynergy filly aptly named Psynssation. This filly send shivers up and down you spine with her beautiful looks, well conformed body and exceptional movement. Bychan Arabians are very proud of this filly and her show career is eagerly awaited.
The grand finale of the parade of horses was Psynergy (Padrons Psyche/Balanina) who greeted his latest daughter with a gentle whinney and it was lovely to see the foal turn to him and return his call.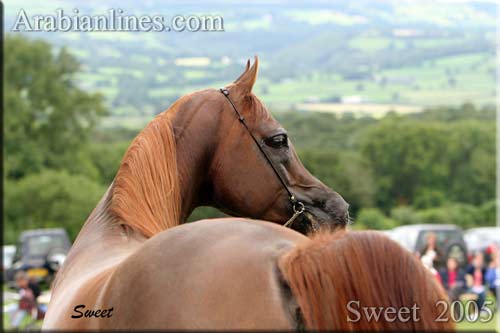 Psynergy - King of all he surveys!
Psynergy has made a large impression on the Arabian horse show ring with his offspring (oldest two years) making him leading sire of the BNC show 2005. All of his stock were placed in the top 5 of their class with five first places, two second places, Reserve BNC Foal Champion, Reserve Yearling Filly being just some of the placings achieved. Psynergy has clicked with the different types of mares ie: Russian, Polish, Crabbet, Straight Egyptian resulting in the offspring not only becoming show quality, but also good substantial horses and I look forward to seeing them under saddle in the future.
After the display of horses and another drink, it was up to the stables where you could get up close to the horses and see them calm, serene and natural in their boxes.
Emenes with his tongue out for you to play with, Master Design wanting his daily rub under the chin and Psynergy just loving the adoration of the visitors.
To sum up the Open Day - excellent food, drink and hospitality, good to meet old and new friends, lovely views and surroundings and an excellent display of horses. All profits from the Open Day are to go to the Breast Cancer Unit at Prince Phillip Hospital, Llanelli.
Thank you Bychan Arabians.