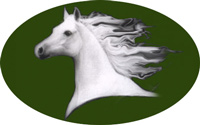 by JAN CLARK
SCOTTISH CHAMPIONSHIPS – KIRK YETHOLM.-13/14 August 2005.
(Photos courtesy of Eric G Jones 01747 860625 www.eriggjones.co.uk )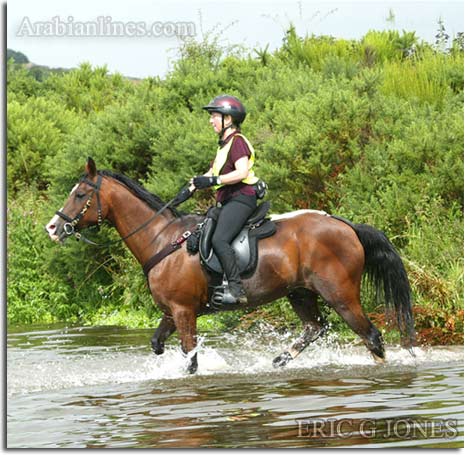 Val Bertham on Frisbee
Held right on the Scotland/England border, the Scottish Endurance Riding Club's Championships event was a real test of endurance in some of the most stunning scenery in Britain. There was a wide variety of classes on offer including a 2 day 80km class (split 50/30) and a 2 day 66km class (33/33). All of the competitors – right down to the Pleasure Ride classes - are very well equipped for the tough going in Scotland. There are long stretches that don't cross any roads so first aid kits are mandatory, and many have light weight waterproofs strapped to the back of their saddles. SERC had obtained some very generous sponsorship for their Championship including £3,000 from Awards for All (lottery funding) £1,000 from the Scottish Borders Council and £500 from the Royal Bank of Scotland. The Borders Council is very keen to promote equestrianism in their area and is working towards hosting a multi discipline event in 2007; they would very much like endurance to be a part of it.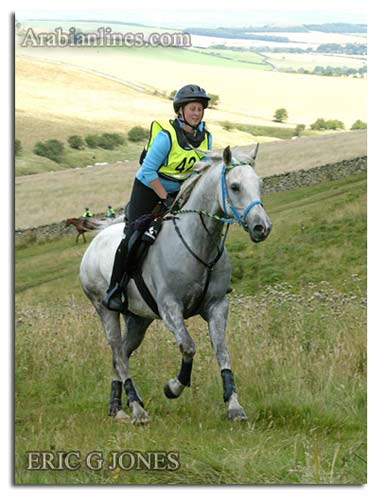 Nicky Bertham on Khurafi
The feature class on Saturday was the 80km ER, and unusually nowadays this was a complete 80km loop with two Vetgates out on course. The first stage was definitely the toughest with the course climbing high up onto the Pennines and the 12 starters in this class wisely took it sensibly until after the first Vet gate when the route swung north and started to descend into the easier arable country, going towards Bowmont Forest.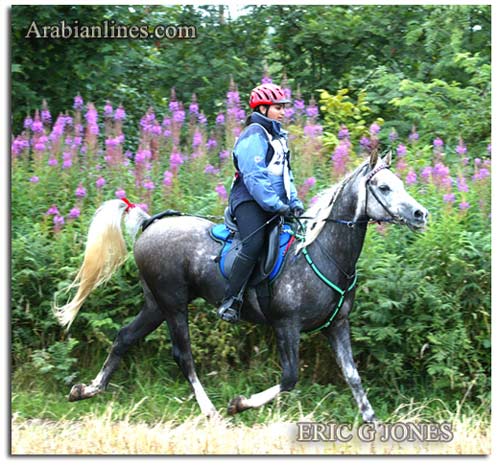 Attia Khan and Cloud
The winner of this class was Susan Thompson on her Anglo Arab gelding Bilbo Baggins (by Zarascz) – winning at an average speed of 11.85kph. Second place went to Alia Khan on M'Barac and third to Rita Tweddle on Zarra Mandees.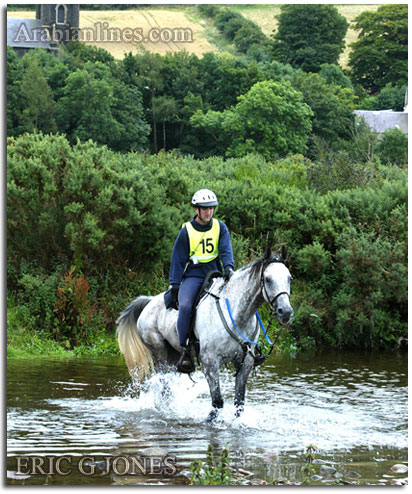 Jamie Craig on Tunisian Mirage
Heavy rain on Saturday night and low cloud in the morning delayed the start of the Sunday classes, and necessitated two route changes to take out hill tops where the visibility was very poor. 11 horses set off in the 64km ER and Jamie Craig on his 16.2hh Anglo gelding Tunisian Mirage (by Royal Knight) soon took the lead. He was chased all the way by Philip Giles from Ireland on Djaman– Philip had come in for this chance ride on Saturday evening when Marina MacArthur – Djaman's owner – had been kicked by another horse and was unable to ride. Fortunately Philip works in a Show Jumping yard in Ireland and is accustomed to riding lots of different horses! Jamie kept up his relentless place and cantered across the finish line to take first place at an average speed of 14.88kph, with Philip and Djaman 13 minutes behind, finishing at a speed of 14.66kph. Third place went to Rachel Dewar on her coloured mare Gypsy Cream and fourth was Attia Khan on her Crabbet gelding Cloud, rounding off a good weekend for the Khan family. The final 3 finishers were Lu Boase on Gold Bar, Diane Michie on Skylarks Discovery and Junior Rider Paula McIver on Popsy.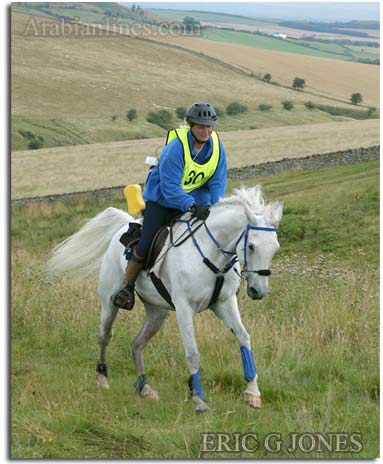 Karyn Palmer riding Shazheen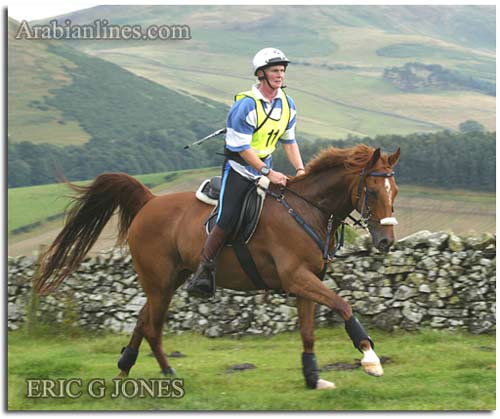 Susan Thompson on Bilbo Baggins
The 2 day 80km class was won by Border's member Val Bertham on Frisbee, and proving that talent runs in the family her daughter Nicky won the 33km competitive class on Khurafi. The 2 day 66 km class was won by Karyn Palmer riding Shazheen. However the hit of the evening at the Prize giving was novice rider Ally Nisbet with her Highland pony Dunedian Victor. They won both sections of the 52km Novice class, (Novice horse and Novice rider) and were part of the highest placed novice team; she collected the Ormiston Trophy for the overall best Highland Pony, and the special award for the highest placed Highland pony in either of the 52km classes. She quipped at the end "not bad for a pair doing their first 52 km ride – I think I'll retire now, whilst I'm at the top!"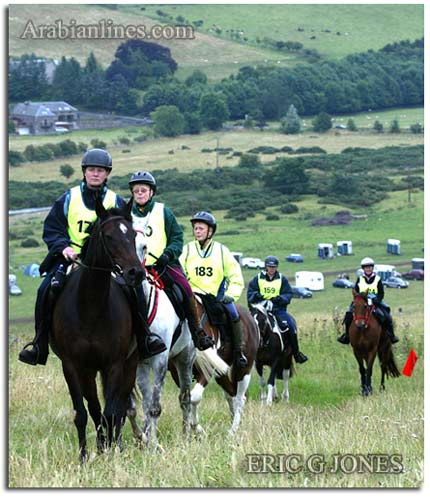 Pleasure Riders
Next year Scotland will play host to the Home International Event and judging by this weekend the riders from England, Wales and Ireland can look forward to a real endurance competition!