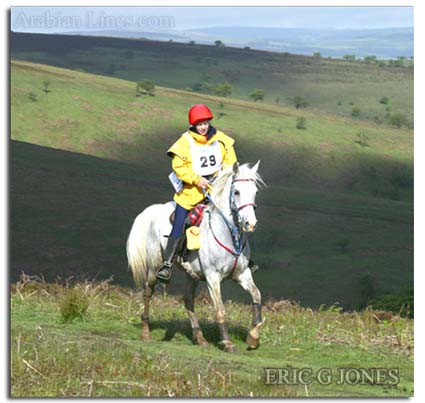 Pauline Higgs with Dainty Dancer
Photo By Eric G Jones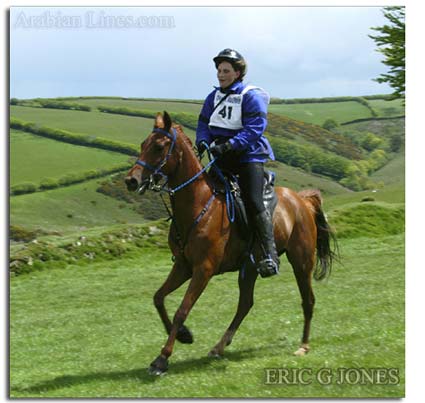 Kirsty Wiscombe and Crimson Skye
Photo By Eric G Jones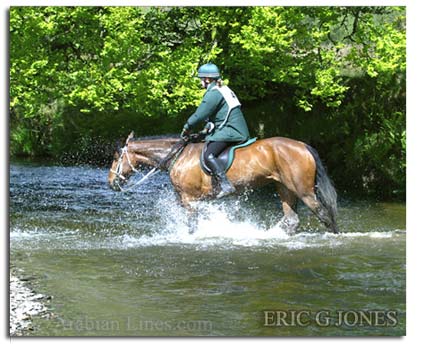 ALiner Evelyn Frame from Scotland on her TB/Morgan mare Ginti
Photo By Eric G Jones

After the heat wave last year it was situation normal for the competitors at the Golden Horseshoe ride 2005 - strong winds, heavy showers, but occassional glimpses of the sun as well. The heavy rain on the very dry ground made for fairly good going, but with some very slippery places too.

The experienced riders in class 1, the 2 day 160km Golden Horseshoe, made good time with 11 surviving to go out again on day 2 with 5 still on gold time. At the finish there were 9 successful completions with 3 Gold, 2 Silver, 1 Bronze and 2 "special" completions.

The Golds went to Mary Chown & her pure bred mare Lumahla Gold - they were also awarded the Premier Award, Chris Yeoman and her pure bred gelding Eleazar de Landas, and Liz Cooper with her home bred, part bred mare Song of Fire.

A Silver award went to our very own ALiner Evelyn Frame from Scotland on her TB/Morgan mare Ginti - I tried to get some words out of her after the final vetting but she was so happy that all she could do was cry! Jo Chisholm and her pure bred gelding Grey Medlar and Ian Miller on his Arab/Welsh gelding Streamcross Dakota were the other 2 silver winners.

The bronze award went to Penny Cavill with her 16.2hh Welsh/Appaloosa cross gelding Lleidi Bambi.

The 2 secial awards went to Sir Stephen and Robert Waley-Cohen who were riding the distance on their hunters (they used 4 each instead of the traditional 1 horse) to raise money for a new childrens ward at the Oxford Childrens Hospital in memory of Robert's son Thomas who died of cancer last year. They have already raised £400,000 and had collected sponsorship for the ride of £700 pounds per mile. By completing they added another £70,000 to their total.

In the Exmoor stag class (2 day 120km) 2 Aliners achieved very good results. Kirsty Wiscombe and Crimson Skye claimed a Stag award (the highest category) and Pauline Higgs with Dainty Dancer a Fawn award. Congratulations to them all for doing so well in such a tough event!


Check back soon for more news.
'Endurance Jan'