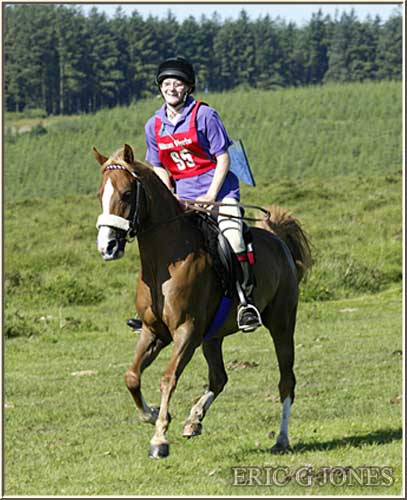 After the very successful Sheer Versatility Ridden Arab Stallion Parade which showcased a dozen or so working Arab stallions, the organiser, Judy Phillips inaugurated a Young Rider Bursary for a rider up to the age of 25 riding a Pure Bred, Anglo Arab or Part Bred Arab horse. Judy reports that the entries were of a high standard and ranged from an applicant successful in the ridden show ring, via a 14 year old enjoying his chance in the endurance field, a west country young rider with a 13.2hh part bred mare racking up points in BSJA competition to a University veterinary science student who has competed in the Junior International Endurance Team. She said that it had been extremely difficult to balance the different achievements of the riders but had chosen a rider who showed grit, determination and promise. So much so that a generous breeder of Arabs had loaned her a horse to compete and bring on. The winner is taking part in a variety of disciplines and this follows the philosophy of Sheer Versatility
The winner of the £500 bursary is Emma Collins, an eighteen year old student, living in Exmouth, completing her National Diploma in Horse Management at Bicton College this year. She rides a Pure Bred Arab gelding, Khamativ, (by Normativ out of Khaleb Men Dhalab,) owned and bred by Jane Stevens, of Doddiscombsleigh, near Exeter. Emma has now been riding Khamativ for three years. She has enjoyed some endurance riding at Novice level and hopes to upgrade to Intermediate this year. Last year she was member of the winning South West Regional Show Jumping team at the National Arab Horse Society show at Malvern. In between she finds time to compete in local dressage classes, hunter trials, and one day events. Last year she also took part in a Christmas quadrille at Bicton when her team was placed 5th.
'I am delighted that someone with such a wide range of equine interests has won the bursary.' said Judy, 'and what wonderful owner breeders we have to trust a young rider with one of their horses. We should give due credit to Jane Stevens for her gesture.' Emma is also having a go at breeding her next competition horse. She has borrowed an advanced endurance mare from Jane and put her in foal to Cheryl Logan's Premium and NASTA tested stallion Shalkar, who in his younger days performed well in Open Team Chasing, Dressage and Show Jumping.
Emma was supported in her application by her farrier Leigh Rogers who first put her in touch with Jane. The Collins family is putting the bursary towards a trailer so that they do not have to rely on friends to transport Emma and Khamativ to shows. The presentation will take place at the Golden Horseshoe prize giving at Exmouth on Tuesday 24th May